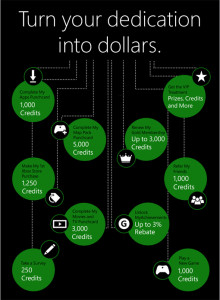 New Xbox Live Rewards program has been announced.  I got the following email:
We've rethought what it means to be rewarded. We've listened to your feedback and added new rewards into the mix. And now we couldn't be more excited to share it with you – our most dedicated Xbox fans.

Here are some of the changes you're about to enjoy:
Earn Rewards Credits, turn them into cash, spend them at the Xbox Stores.

You achieved, now receive more! Introducing a new MyAchievements VIP tier for our most dedicated gamers.

Get paid to play! Introducing a new reward for playing the latest games.

Knock out new Punchcards – now easier and faster to get your Rewards!

And keep earning by renewing your Gold membership, spending at the Xbox Stores, referring your friends, taking surveys and more!