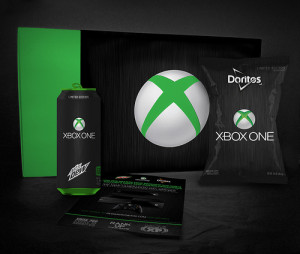 This fall, Mountain Dew and Doritos will give fans the opportunity to get their hands on thousands of Xbox One consoles through the biggest gaming promotion in brand history. To celebrate the partnership and a new generation of gaming, I have a couple of deluxe DEW/Doritos/Xbox One commemorative kits, complete with limited edition DEW and Doritos products. To enter, leave a comment below and tell me what Xbox One game you are most excited about. I'll pull two random winners next week to win one of these exclusive commemorative kits.
More on http://www.dewanddoritos.com/
The rules: Deadline to enter is 11:59am Pacific on June 21, 2013. 2 randomly selected winner will be notified by e-mail or Twitter. One entry per person. Read this if you have questions about the Disqus commenting system. Contest is open to US residents only.
Note: If you do not have an e-mail address or Twitter name associated with your Disqus login, you must include your Twitter information in your comment to be eligible. Any winner who does not respond to my notification within 72 hours will forfeit the prize. For faster notification, follow me on Twitter where I can DM you if you won.  Source