How many of us here supported Ouya with their Kickstarter campaign?  Well if you pledged your $95 or more, you'll be getting your console sometime this month.  It won't be widely available for everyone else until June.  Comment and let us know if you are going to or have already received your console.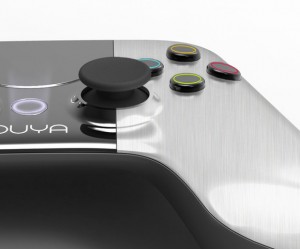 Mobile gaming may be getting more popular by the minute, but 2013 is shaping up to be the year of the console, and it's not just because of new boxes due out from Microsoft and Sony.
Ouya, the highly anticipated $99 Android-based gaming console, starts shipping to "tens of thousands" of early Kickstarter backers beginning March 28. "Parts are in the factory and assembly lines are buzzing," Ouya CEO Julie Uhrman said in a company blog post. "We'll gradually ramp up production as we make sure things are working."
Gaming fans who supported the Ouya's development by contributing $95 or more to the Kickstarter campaign will get their devices a few months before the console becomes widely available. Ouya's official public launch is set for June when the console becomes available from retailers like Amazon and Best Buy.
The Ouya may be cheap—about half the current price of a basic Xbox 360—but its other unique feature is the attempt to bring mobile app-style economics to a television console. The idea is to create a console platform that is readily available to big and small game makers.
Both Microsoft and Sony do offer a platform for independent games, but the costs of developing for the major consoles is often too high for smaller game studios. Since Ouya is based on Android—a platform many mobile developers are already familiar with—it should be much easier for companies to create new games or adapt their mobile games for the console.
Big names sign on
Some big names from the gaming world have also signed on to develop for Ouya:
Kim Swift, who led game design for Portal and Left 4 Dead at Valve, is working on an Ouya title with Airtight Games.
Tripwire Interactive is bringing its 2010 game The Ball to Ouya.
Gaming start-up Robotoki is working on an episodic prequel to Human Element Ouya.
Human Element is an anticipated new game slated for release in 2015 that will work across a variety of platforms including consoles, PCs, and mobile devices.