Rocketbirds: Hardboiled Chicken was developed by Ratloop Asia. It was released on 2/12/13 on the PS Vita for $9.99. A copy was provided for the PS Vita for review purposes. Multiplayer has not been reviewed at this time. Also available on PS3 and Steam.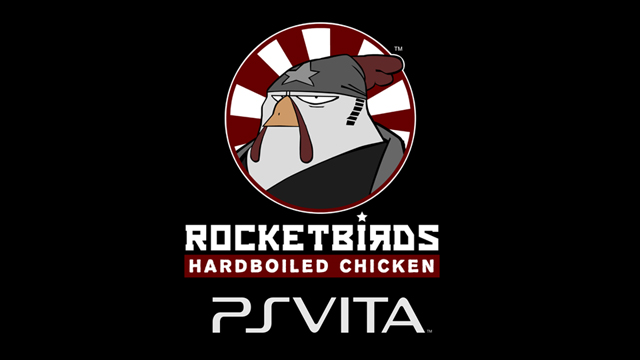 There was a lot of doubling blinking and at least three heavy sighs when I saw the title, Rocketbird: Hardboiled Chicken. And can you blame me? With the sea of depressingly terrible games we wade through on an annual basis, I was ready to pitch this out with the rest. But then the music, it hooked me. It hooked me because it was so distinctly juxtaposed against this ridiculous looking chicken, who was supposed to be the hero, the player. It took until I pressed "Play Campaign" that I was not sure if I should start over to listen to the rest of song playing at menu select. Perhaps it was going to be the best part of this experience.
I was wrong.
So. So. Wrong.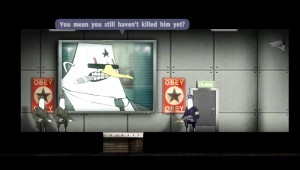 The Great: The Action-Adventure Side-Scroller Returns!
After the introduction of the main character by flash animation and healthy dose of New World Revolution's soundtrack, you crash to floor of a jungle. You are a gun-totting chicken. A barrel-chested, gun-totting chicken who is clearly ready to put some hurt on some penguins. Quickly you realize that this amusing satire of countless 80's action films and video game tropes is something special. It transported me directly to the moment when I first played Out of this World (aka Another World). Out of this World enthralled me with its ability to portray a cinematic style in a 2-D presentation. I bought into Hardboiled Chicken right then and there on the floor of that jungle.
Then the proud pantheon of this genre crept into my mind and I welcomed it with frothing glee. I saw the grandfather of the pack, Prince of Persia (the Apple II original) peek in and say hello. Flashback stood tall and nodded and the noble, oft overlooked Blackthorne locked and loaded and saluted another great title into the annals of cinematic action gaming. I was always glad that this genre really never caught on, because it felt like they were making the games just for me. This sense of exclusivity makes this genre unique. In the case of Rocketbirds: Hardboiled Chicken it is because the designers were making the game for themselves, and though your hero is a clichéd action hero; it is not without irony or love. It has healthy portions of both.
What does this mean to those of you who have never played a single one of these titles mention? It is part action game, part adventure, part puzzle. You cannot blast through Rocketbirds. Many times you must utilize a small amount of logic to surpass a level, and it feels good.
It controls, for the most part, as well as its predecessors of this genre, if not better. Smooth and clean are Hardboiled Chicken's moves as he exacts revenge on il Putzki Penguin, the conglomerate of the world's worst leaders or the at least the worst parts of those leaders.
Never has a chicken convincingly played a powerful hero like Hardboiled. The poultry bar has been set inexplicably high.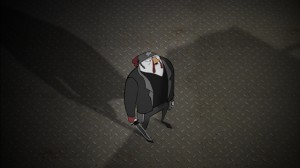 The Good: The Sights, The Sounds
Rocketbirds: Hardboiled Chicken is very handsome game. Not handsome. What is more than handsome? Dashing? The hand-drawn style trumps up the personality of this game immensely. Great care was made to visually pop and pop it does on the PS Vita. The characters are well defined; whether it is the pudgy budgie resistance or your cardinal brothers-in-arms, the art is slick. The environments are stark and moody. If Rocketbirds were your prom date, you would step tall.
The voice-overs, sound effects and ambient noise are all very suitable, but it is the soundtrack that sets Rocketbirds apart. The multi-tiered satire is not lost between lyrics and gameplay. While I would doubt that the music so excellently executed by New World Revolution would be favored by the fictional hero, Hardboiled Chicken, it frames Rat Loop's work perfectly.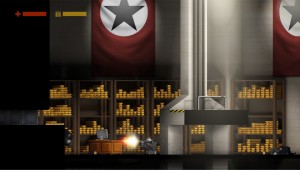 The Bad: Where is the rest of the game?
Rocketbirds teases us with more at the end. I would have been pleased with at least one more level. It's not that the price of admission does not equal what is delivered, on the contrary. It left me wanting more and they knew it by strutting the sequel about my Vita's screen. How dare you.
The Ugly: Rear-Touchpad this!
Please. Please. Will someone integrate the rear-touchpad in a useable manner? Rocketbirds' greatest disservice to itself is the screeching halt to gameplay when using the left shoulder+rear touchpad combination. It isn't a combination you can avoid either. The flinging of the mind control critters to take control of and move hapless penguins about the board is made frustrating by this function.
Also I love grenades. The rear-touchpad is needed for grenade lobbing. I wanted to use more grenades, but was hampered by this function. The front touchscreen would have felt much more natural to the flow of gameplay. Let's wait for a true reason to use that rear-touchpad, okay?
—————————————————————————————————————–
The Final Word: BUY IT!
This is an indie title for the uninitiated. This is what we (the fans of independent games and developers) are talking about when our eyes gloss over with adoration for the "indies." Here is to hoping for more indie entries to the PS3 and PS Vita. Rocketbirds: Hardboiled Chicken is leading the revolution. Do not mess with Hardboiled.